Greetings from Austin, the capitol of everything, and even more so during SXSW.
This is my first time at the interactive section of the conference, though I have done the music side before (1991, 1993, 1999, 2002).I have met lots of great folks, both entrepreneurs and small businesses from the Portland scene as well folks as from large companies such as Google, HP, Frito Lay, the University of Maryland's medical school, GSD&M, Intel, Wieden + Kennedy, and others. I am connecting the threads of what I see happening here with my research on social media over the last fifteen years. I also learned what an information architect does.
What are people talking about? Glad you asked…
Social media marketing panel on first day had an overflow audience. Lots of folks who desire answers when they need to start with questions. Not that I know what was actually said in there, seeing as I had to go to a panel next door on using blogs and twitter to find deals (hint: Groupon). Also (and this makes total sense), retweets carry more currency than tweets. A panelist in another session said they were worth 18X the currency of the original tweet.
A panel promoting Brian Solis' new book featured high-powered special guests including Jeremiah Owyang, Frank Eliason (Comcast Cares), and Dennis Crowley (FourSquare). I liked Solis as a speaker, and was intrigued that he seemed to utilize a mode of speaking designed for soundbites, or to put it in 2010 vernacular, Tweets. I couldn't detect the primary argument (buy the book perhaps?), but was enthralled by the stream through which he paddled.
Panel on crowdsourcing distinguished between crowd and community. The former has a common purpose, but features interpersonal isolation. The latter has a purpose as well, but is sustainable.
The future of influence featured four panelists weighing in on the truth or bull of a series of statements such as "The value of influence is clear" and "The role of 'expert' is dead."
danah boyd gave the keynote on privacy versus publicity.  She used two recent corporate failures (Google Buzz and Facebook privacy settings of December 2009) to explicate what people expect in the way of privacy. I was struck by the generational challenges– parents today have no reference point to what their kids deal with on the Internet; there is no "back in my day" that you can say to them.  And whereas parents look at SM for what they can lose, teens look at it for what they can gain.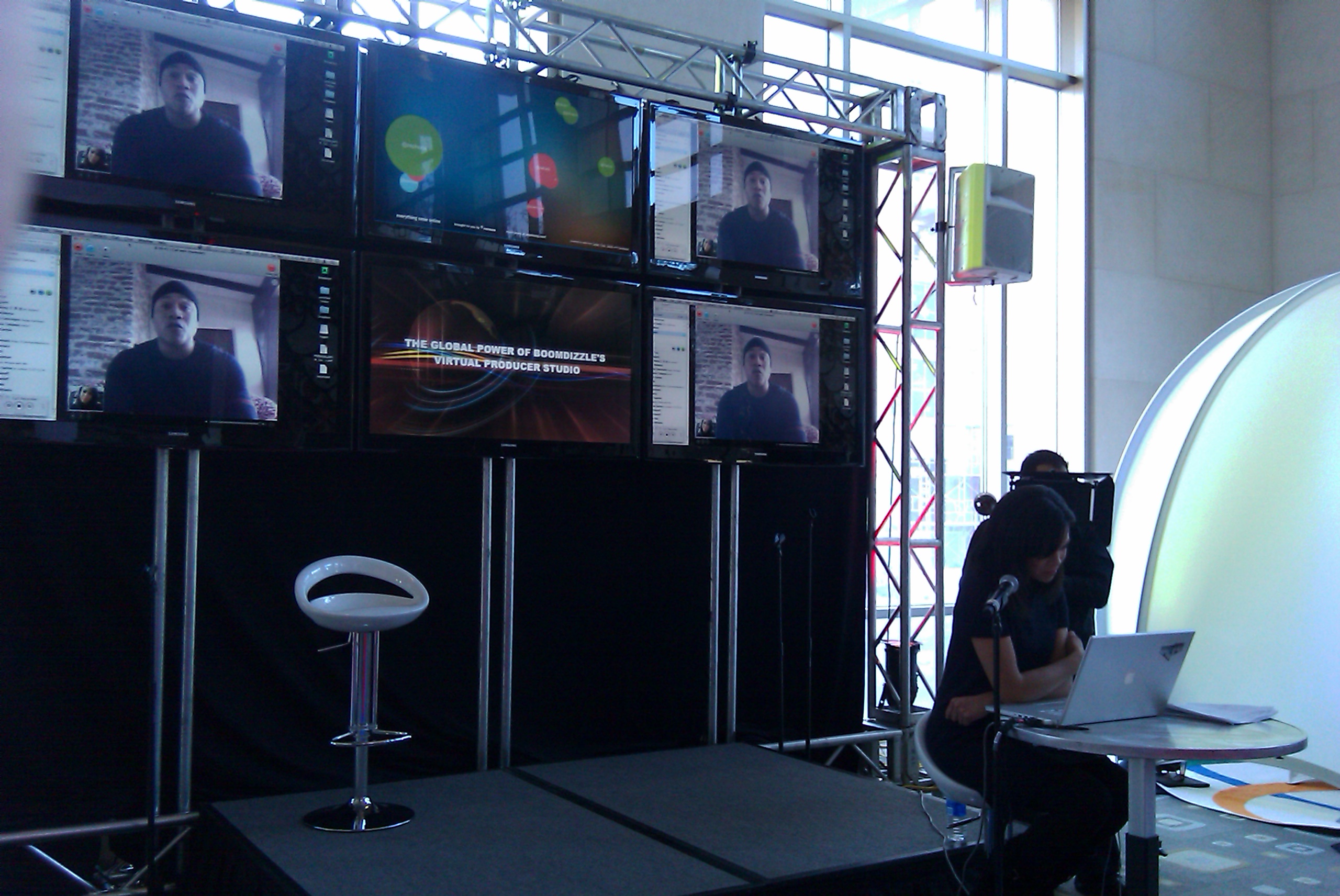 Right now LLCoolJ is promoting Boomdizzle via a Skype conference right next to me. The guy setting up the conference called him Todd (his real name) when they conversed one-on-one (outside of the view of most people). If I were a rapper, I would insist everyone call me by my rap name, FiveBall ThugR.